Choosing The Right SEO Partner
Most of you out there are slightly intimidated by the term 'SEO' and view it as some kind of magic solution to your business woes, especially if you're an online business.
The question that arises in your minds is what to look out for when choosing an SEO partner?
Notice the terminology used for them. Yes, they have been termed as 'partners'– as choosing them can prove to be an important decision with the power to alter the course of your business. Your due diligence when choosing such a partner must be thorough in order to get the maximum possible assurance of good results from this SEO partnership.
Well, we've been in the business a long time and that places us in a space where we can offer you good advice on the aspects that you need to consider when you're choosing an SEO provider.
So, How do you start the process of choosing an SEO firm?
Define objectives desired from the SEO investment and share them:
The first thing is to be clear in your mind about why you are choosing a firm to handle SEO for you, the costs you are willing to incur, and the results that you expect from this investment.
We'd advise you to discuss this with all the important stakeholders in your business. All of them should be clear about these aspects.
It is better if the results you expect from your proposed SEO investment are tangible in terms of traffic and even profits. We would like to iterate that it is always better to have targeted revenue-generating traffic rather than just ranking on top of a keyword, with no tangible financial benefits to your business.
Clear communication of these aspects to the SEO service provider that you intend to work with will also ensure that both of you are at the same page since the beginning.
Searching for the Ideal Fit:
There are multiple ways of searching for an SEO firm online and offline.
You can always ask a friend or a business associate about this, and go along with the guys that they're using for their SEO needs but this method does not always give the best results; as your industry, budgets and objectives may all vary.
You can always try and search for SEO providers on Google. Most small and medium businesses search for a 'local' provider. However, there is no evidence that such an approach works. The best SEO service provider who can provide you the desired results in the budget you so desire may not be located in your local area. There are very competitive firms located in low-cost geographies such as Eastern Europe, India, and the Philippines who can do a much better job than overpriced players who may be local. If you have the budget then you have the luxury, but dealing with small and medium businesses over the past decade has taught us a lot of lessons on how crucial cost is for such customers.

Lists: Another method to find the ideal match is to look at the lists compiled by established players such as FindbestSEO, Webcyonix, etc. You can also check some forums and groups related to SEO such as High Rankings. You will find generic lists and sector-specific recommendations also. One advantage of these is that the makers take care to include only players that have some experience in the field. So, even if you do not trust them, then also you have a base of several firms from which you can make an informed choice.
Or you can go through an agency such as Credo, which goes a bit further. They ask you for your SEO requirements and then provide suggestions on the right SEO or digital marketing service providers for your firm. But when you add another middleman, remember you are always adding to the cost.
So the next step is making the actual decision and selecting the best SEO service provider suited to your business requirement. Closely linked to this decision is evaluating the potential SEO partners, comparing between services, and making the choice.
Parameters to Judge Your SEO Provider: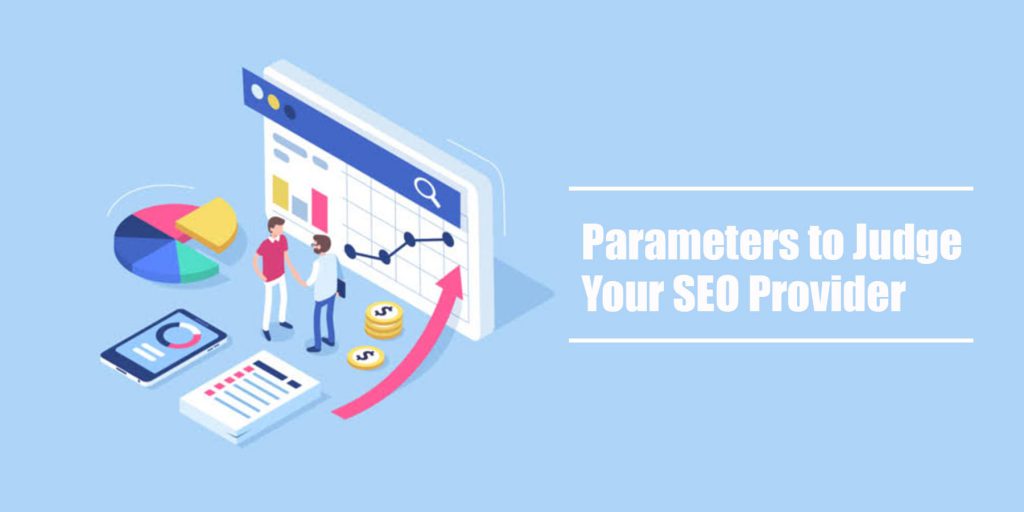 Let us assume that you have zeroed down to 2 or 3 SEO service providers; and would like to judge between them.
First of all, take a look at their website and what impression does it leave on your mind. Check their rankings on Google, and see if they've been able to succeed in SEO with their own site.
Schedule a call or a meeting with the firm, explain to them your business and your requirements, and start assessing them by the replies they give to you and the plans that they formulate for your business.
This conversation will make it a bit clear to you whether there can be a fit between the two firms, and whether the service provider is able to understand the nuances of your business; and your requirements, before they get down to the job of providing solutions.
Verify Their SEO Credentials:
Ask your SEO provider for a list of clients they've worked for; and speak to some of them. Do not feel shy in asking about the price, performance and the reliability of the services and basically anything else that comes into your mind. Another way to evaluate their performance will be to ask them for reports of their past successes-ask for solid proof such as ranking screenshots and reports submitted. Also, Google their name and if there are any issues with their track record, then you'll be able to find it online.
In this regard, we would advise you to totally avoid people who market SEO as a magic cure and advertise their unique SEO techniques, because there aren't any. Anyone who promises instant results is a strict no-no, because such a thing is not possible and also implies use of black hat SEO methods, which can lead to long lasting damage to your online business in the form of a Google penalty. Also, be careful with people who directly reach your email ID and market their services. Use background checks to validate their claims. But it's not as if these guys aren't any good, they managed to avoid the Spam folder, you know!
Choose Your Package or Project:
Ask the service provider for details of all packages offered by them, and then choose the one which is most suited to you. Check with the SEO firm if you can structure a customized package based on your unique requirements.
If you are on a low budget, then you can structure a performance-based package in which you offer the SEO firm a share of the additional profits or revenues that you will be able to generate due to their efforts.
At the time of selection of the SEO partner, it is imperative that you ask them as to how much time will it take for SEO and what are the defined metrics in which the improvement will show.
It is also essential that you create the template and set the timeframe of progress reports and updates.
Even if you are with the SEO service provider on a project basis, ask them the cost for maintaining the high ranking and traffic after the project is successfully completed.
After selecting the provider and starting the SEO partnership, it is essential that you regularly keep in touch and seek updates. However, seeking instant results from your investment would also not be right attitude to have and this is why clear communication is necessary on the time for expected results to fructify.
We hope that this short piece helped you in getting an idea on how to select an SEO partner within the budget envisaged for the task so that it can actually lead to a benefit for your business.