Best Adult Website Hosting Providers for 2020
Although some of the features they provide are the same, there are some notable differences between adult sites and normal websites on the Internet, primarily because some providers will simply not allow adult content to be loaded on to their servers. However, for those providers which do, many of the same criteria apply, just as they would for hosting any other kind of site.
For instance, loading speed is especially crucial for adult content, because viewers just won't tolerate slow-loading material that makes them wait. Another important consideration is reliability or uptime – any provider which can't guarantee almost zero downtime will quickly be ignored by adult sites, again because customers simply won't stand for it, and will immediately head for a rival website which is more reliable.
Support is another important factor, perhaps less critical than the first two factors, because it doesn't impact the end customer like the first two considerations do. Still, support can be very necessary at times, so it's definitely on the list for things to consider when seeking adult web hosting. Surprisingly, one of the factors which is less important to most adult sites is the cost charged by a host provider.
In business, the cost is usually one of the top factors in making any kind of decision, but the truth is there isn't a broad range of difference between the hosting fees charged by most of the top adult host providers, so this is much less a factor than some of the other criteria mentioned above. Taken together though, these four items may comprise the top considerations which any adult website should review when seeking a hosting provider. Based on these four criteria, some of the very best choices for adult web hosting providers are listed below, in no particular order.
Must Read: How Big is the Adult Industry And What's Its Future?

There is probably no adult web hosting provider which can boast of faster load times than Digital Ocean, so if speed is a big consideration for you, this should be your host. With starting packages at $5 per month, this host can also claim to be very reliable, at 99.95% uptime, and customers rank it very high in the area of customer support and availability. 
Offer: Signup here to receive $100 in credit on Digital Ocean.

TMD Hosting is well known in the industry for their speed and reliability, and they also provide a very easy-to-use drag-and-drop website builder, to help you get started with your website. TMD boasts a 99.98% uptime rate, and gets very high marks for its customer support, with all this coming at a very low package rate of $2.98 per month for an entry-level account.
Also check out our: 5 Most Effective Techniques to Rank An Adult Site

Host Gator offers unlimited storage and a free domain name, if these are important to you. This host earns a solid grade from customers for their outstanding customer service, and the loading speed of files is one of the fastest in the industry. Host Gator is also quite reliable, with 99.99% uptime, and the cost of their entry package is a mere $3.48 per month. 

A2 Hosting has blazing-fast load speeds, matched by few in the industry, and this fact alone may recommend them as a top choice among adult web hosting providers. Uptime is a very respectable 99.94%, which is as good as most companies online, and customer support is at least solid, if not among the industry leaders. You can purchase an entry-level A2 Hosting package for $3.92 per month.
Also read about Making Your Adult Website Mobile Friendly

This adult web hosting provider has the advantage of almost 20 years of experience, providing adult sites with trusted hosting service, and during that time it has come to be relied upon more than almost any other adult web hosting provider. They offer free domain registration, free SSL security implementation, and free total privacy to their clients. Since they underload their servers, this host can still provide premium service during times of traffic spikes and increased usage, without affecting load speeds or other performance. 

This adult web hosting provider prides itself on offering the best low-cost hosting service on the Internet, and even if that claim isn't technically true, it's close enough that the difference doesn't matter. They offer a superb network, with locations in both Europe and the U.S., so you can go global if you like. They also provide dedicated servers, with professional support available at all times, and they charge no fees for setup.

This is a premium host provider for adult websites, with package prices that start at $5.95 per month, and which include round the clock support for clients, 365 days per year. They also boast of 99.99% uptime, so you should never have to worry about losing business due to site outages. They have no setup charges, and will even help migrate your site to their servers, if you have an existing website. Their plans are fully scalable, so if your business takes off and begins to grow significantly, your growth path will be an easy one.

With a starting price of $3.95 per month, you won't find many providers who are less expensive, and you get 50 GB of storage for that. Their website builder is free, and comes with thousands of templates for you to choose from, when you're putting your site together. This host offers 24/7 customer support, and is reachable via chat, email, or phone, so you have multiple avenues for connecting with them when help is needed. New clients automatically receive $200 worth of advertising credits with Bing and Google, which is a nice way to get started.

The starting price for a hosting package with this provider is a mere $3.95, and the host offers 99.9% uptime in addition to 24/7 customer support. One of the most distinctive features offered by SiteGround is its lightning-fast servers, which should keep adult site clients very happy indeed. Depending on the package you purchase, you'll get between 10GB and 30 GB of storage, and the free use of its WordPress website builder to get your site up and running.

One of the best things about this adult web hosting provider is their impressive 99.99% uptime, which is above the norm in this industry and practically any other industry as well. They also boast a solid customer support team which is available around the clock, every day of the year, to solve customer issues. It offers shared hosting plans which begin at less than $1.45 per month, but these plans are limited to a single domain and 100 GB of storage. If you care to upgrade to their $2.95 or $3.95 plans, you can get multiple domains, as well as considerably more storage.

Best Hosting for Adult Websites 2019 (Infographic)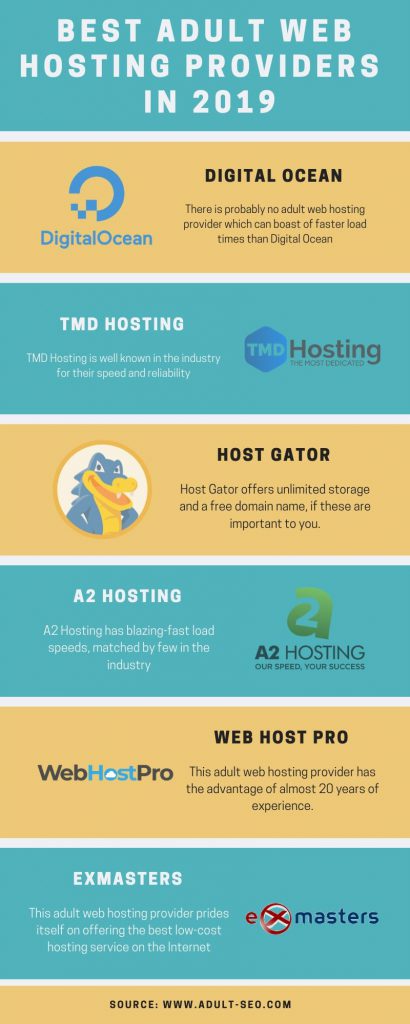 Recommended Reading: How Adult SEO Works