Optimising Your Blog Content For SEO
SEO or search engine optimization is extremely important for marketing and widening your reach. When you optimize your blog content for SEO, you are making your blog more visible for people who are entering keywords associated with services and products offered by you. SEO will help you increase traffic. Moreover, SEO will also help your blog rank higher in search engine results if implemented correctly.
Here are some simple ways you can optimize your blog content for SEO
1. Use effective keywords
In order to make your blog more visible to your target audience, you need to research the most important and searched keywords on the internet. It is suggested that you do a keyword analysis to help determine what your target audience is searching on the internet, what topics they are interested in based on search engine data. You need to ensure that you are writing blogs that are in public demand. You can use a keyword generator to find the most searched keywords for a particular topic. Although, make sure that you do stuff keywords. Google and other search engines will know it immediately and not consider your blog fit to rank high in search engine results. The keywords should fit in the blog naturally, do not make it look like they are deliberately added. If you are still confused about where to add keywords, refer to this:
Keywords in the title. 
Keywords in the main headings.
Keywords in the body of the blog.
Keywords in the conclusion. 
2. SEO friendly URLs
An ideal URL for your blog post must be short and include all the main keywords. Many marketers make the mistake of making the title, the URL of the blog. Such URLs are long to read. Keep your blog URL descriptive but short with the relevant keywords. Do not include conjunctions such as, "and", "in" and "or" in your URLs. Here is an example to help you understand better. 
3. Choose a title for your blog post 
The title for your blog post is the first thing that search engines and readers consider when judging the relevancy of your blog content. It is crucial that you include the main keyword in the title. To increase user-friendliness, you must come up with a good and interesting title. While some bloggers decide to do this step first before moving on to the content of the blog, others prefer to keep it for last to have a good concept of what the blog is supposed to offer. It is on you to decide what is more efficient for you. 
Also Read: How to Use SEO to Actually Drive Revenues?
A good SEO friendly blog title should have the following features:
To show your blogs without breaks in the SERPS, create a title within the character limit of 55-60.
Include your target keyword but avoid keyword stuffing.
Your title must accurately explain what your blog offers.
Make it interesting and eye-catching enough to increase user clicks when displayed on search engine results.
If you want an idea of how your blog will appear in Google's search results, then you should use the Google SERP Snippet Optimizer Tool. Also, do not hesitate to use words like "a guide to" and "how-to" instead of just creating a title with keywords. This will make your blog look interesting and clickable. You can also use a title generator to look for SEO-friendly blog titles.
4. Add internal links if necessary
Add an internal link on your blog post only if it looks relevant enough. You can link an already published blog to your new blog if both blogs are based on similar topics. It is suggested that you at least link one of your blogs posts or web pages. Internal linking guides users to other pages while increasing engagement. It will also help reduce the bounce rate.
Remember, the more time a user spends on your blog, the better it is for SEO. Moreover, internal linking may also create a backlink to your website when your article gets shared by other websites. Increase blog shareability by creating good content to get noticed by other websites and create backlinks leading to your blog.
5. Come up with a meta description
Meta description or the description tag that appears below your website in search engine results to explain what your website is about is minimum words. In similar words, it is the summary of your blog post and should be less than 200 characters. Google may choose to display your description in the results, and this is one factor that will determine user visits to your blog. Hence it is crucial that you optimize the length of your meta description. Keep in mind that the description should be interesting and eye-catching enough to lead the users to your blog. 
6. Optimize the quality of your blog content
It is advised that your blog should have a minimum of 300 words. According to studies, longer blog posts are better noticed on search engine results. Although, if your article is not easy to read, you might not generate more audience.
The quality of the blog should be your main concern and not the quantity. Research and gain insight on the topic before writing a long blog post. Search engines give importance to readability when ranking blogs on search results. Use smaller paragraphs, shorter sentences, headings, punctuations, and bullet points. Make sure that the user should not require to read a sentence a second time to understand it. A good quality blog post should include both sides of the story, with relevant links to studies and researches that support the content of your blog.
7. Use images and videos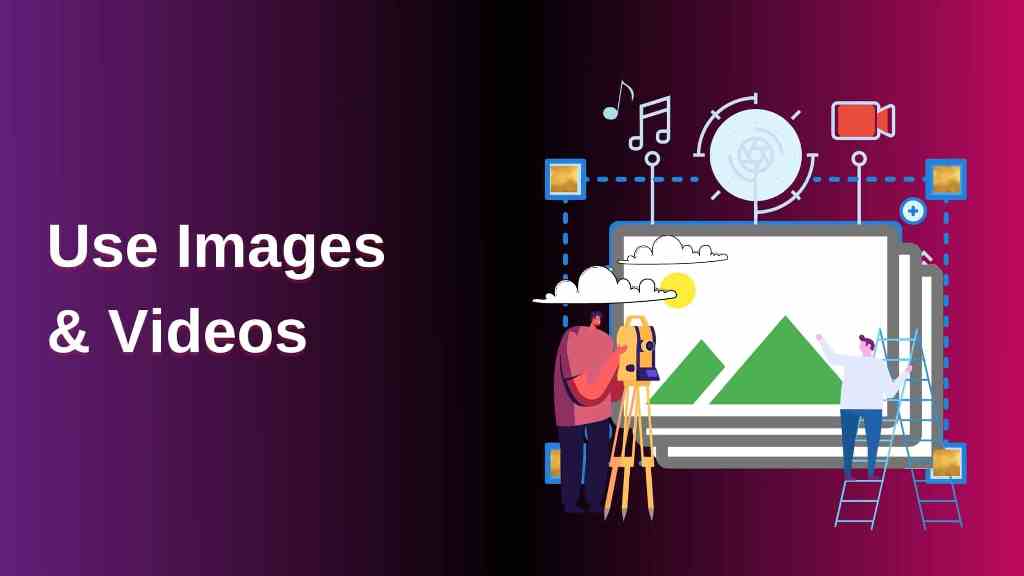 Images make it easier for users to understand and take interest in the blog post. They provide additional SEO value. Remember to add descriptive alt tags that include appropriate keywords when including images or videos in your blog post.
Video content is appreciated in blogs. It increases the time a user stays on your blog. Include your YouTube videos to enhance your blog post and keep the users engaged.  The bottom line is, every blog writer or owner should be focusing on SEO to get maximum reach. With the right SEO strategies, you will be noticeable and ranked higher on search engine results. SEO doesn't have to be challenging and difficult, and we hope the above-mentioned tips will help you widen your audience. 
Also Read: How Google Updates Impact Adult Websites?